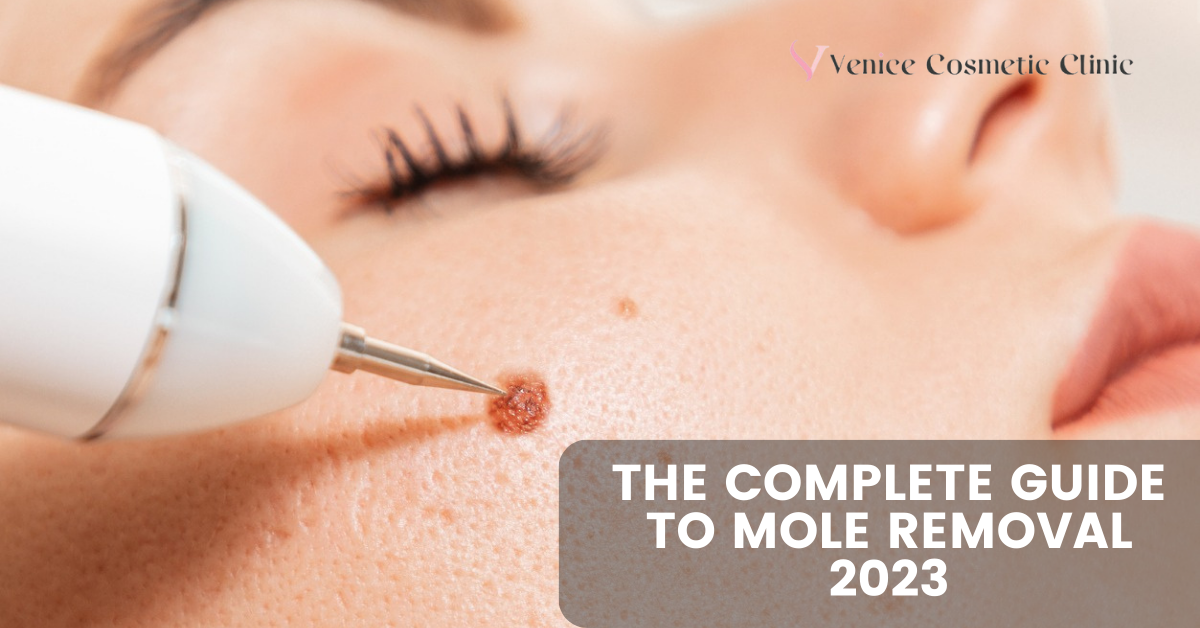 The Complete Guide to Mole Removal (2023)
Moles can be concerning for some people, and mole removal is a common procedure sought by those in Toronto and nearby areas. While various methods are available, such as mole removal creams, cosmetic concerns, skin cancer prevention, or removing a painful or itchy mole, weighing the pros and cons of each option is essential. While there may be some risk of scarring with a plastic surgeon, it may be the best option for cosmetic mole removal.
In this guide, we will discuss the different types of mole removal, the risks and benefits of each method, and how to choose the best method for you. We will also provide tips on how to care for your skin after mole removal. 
Takeaway 
Moles are common, but if one changes, it could be a sign of skin cancer. If you have a mole that changes in size, shape, colour, or texture, or if it starts to bleed or itch, see a doctor immediately.

After removing your mole, your doctor will stitch up the wound and apply a bandage. They will also give you instructions on how to care for the wound.

You may have some soreness for up to 4 days after the procedure. This is normal and should go away on its own.

Moles removal scars usually heal in 2 to 3 weeks. During this time, keeping the wound clean and covered is essential.

To help the wound heal, keep it moist with a sterile bandage or petroleum jelly. Do not pick at the scab or try to remove it yourself.

Never try to remove a mole at home. This can lead to infection and scarring.
What is a Mole?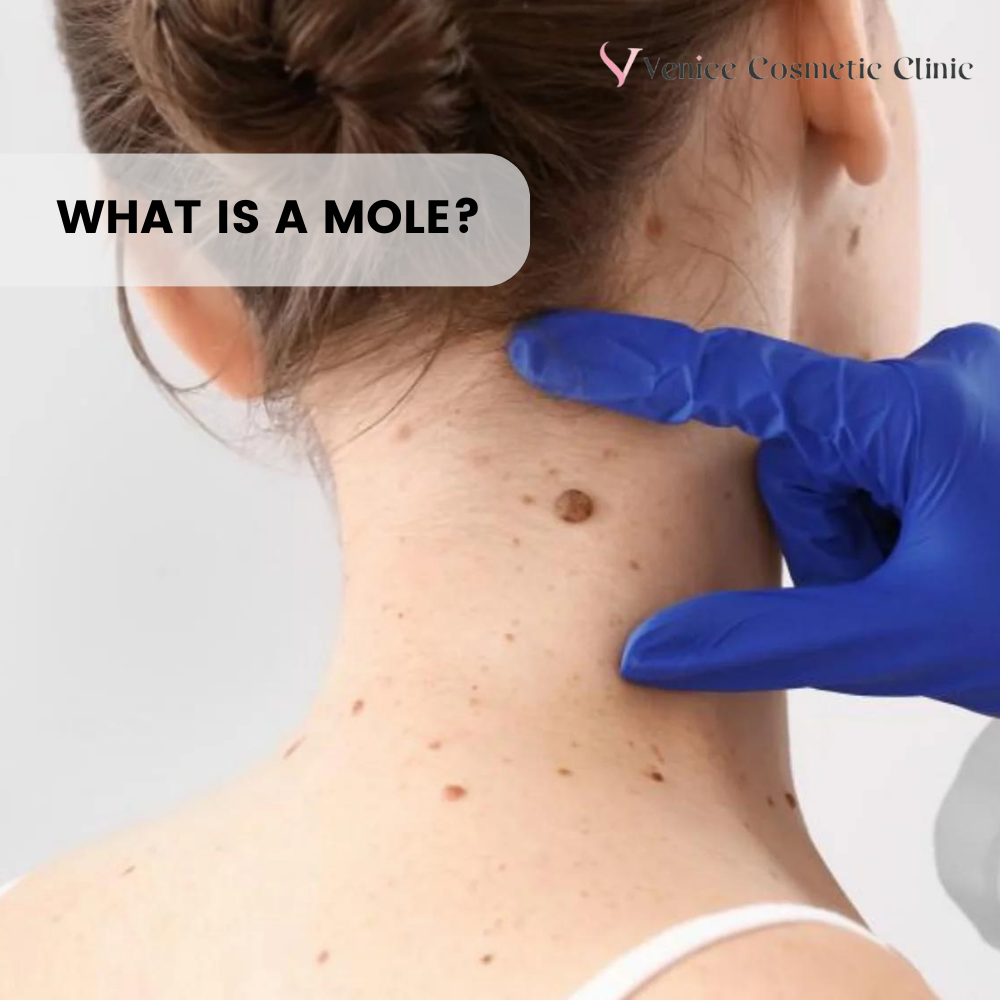 Moles are small growths on the skin that can be brown, black, pink, or your natural skin tone. They often appear in childhood or adolescence and can be flat or raised. Most moles are harmless, but it is essential to see a doctor if you have any concerns about the appearance of a mole or if it changes colour, shape, or size.
Some people have more moles than others. It is normal to have about 10-40 moles by the time you are an adult. Some moles may grow slowly and lighten or disappear over time.
Itchy moles, bleed, are not round or oval, or have changed appearance may be skin cancer or precancerous. If you have any concerns about a mole, see a doctor immediately.
Schedule A FREE Consultation With Us
What is Mole Removal?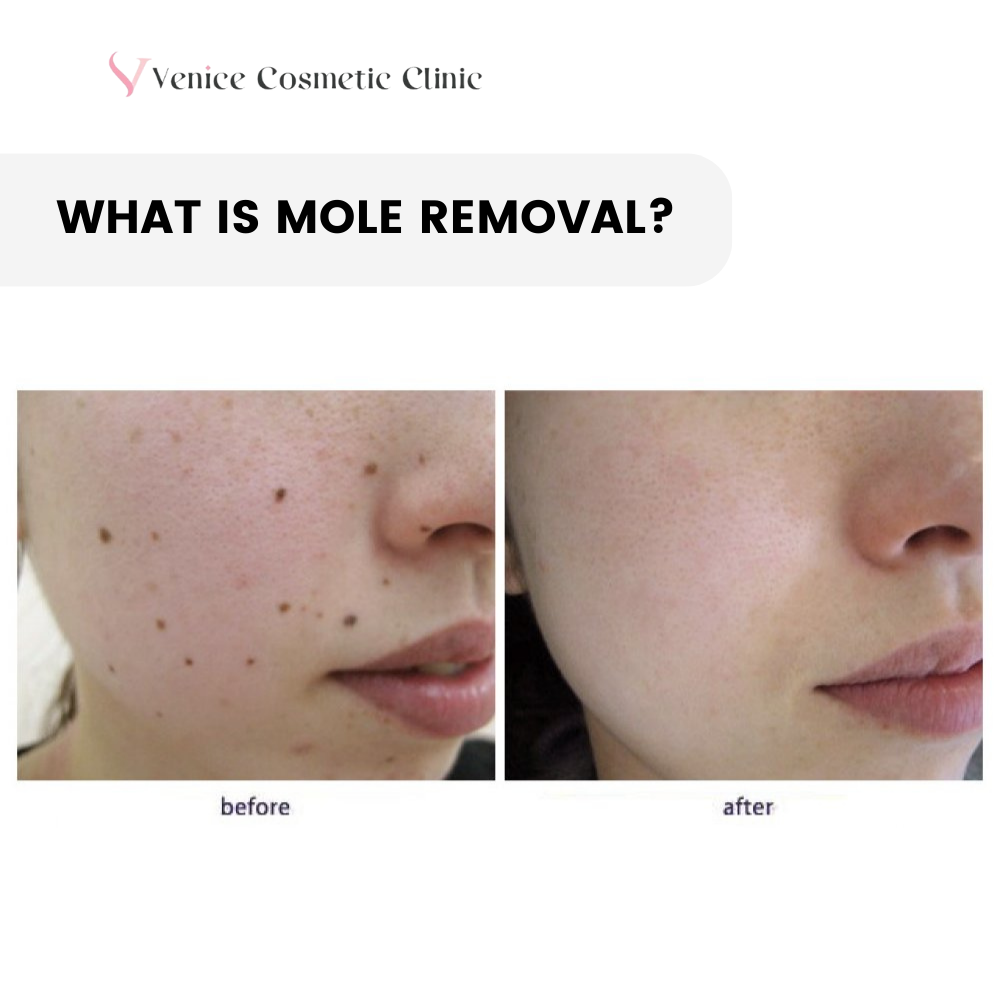 Mole removal is when a dermatologist shaves or cuts a mole to remove it from the skin. In Toronto, mole removal is typically outpatient, meaning you can go home the same day. The procedure is usually quick and painless; most people experience little to no scarring.
Following your dermatologist's instructions for aftercare after mole removal is essential. This will help to prevent infection and promote healing.
Why are Mole Removals Done?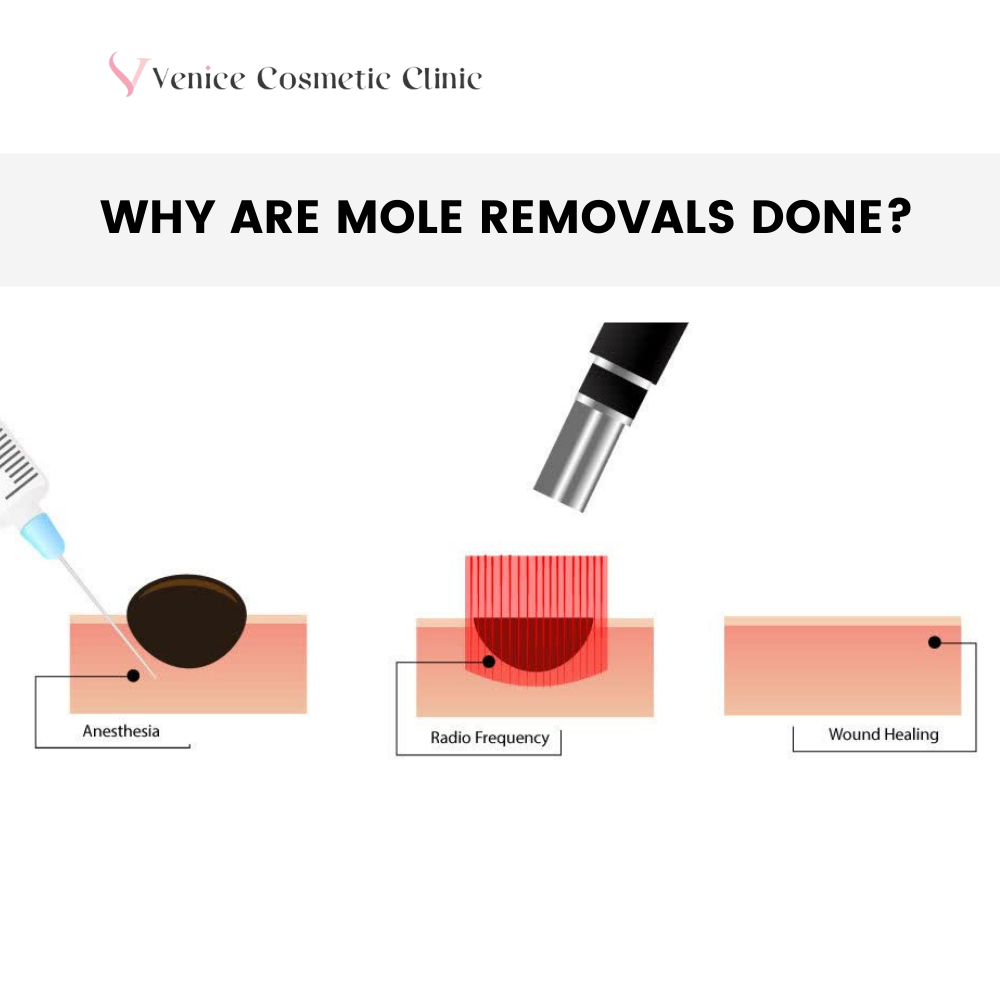 Atypical moles, or dysplastic nevi, are more likely to become cancerous. They can appear anywhere on the body but are most common on the face, neck, arms, legs, and torso.
If you have an atypical mole, your healthcare provider may recommend removing it to test it for cancer (a biopsy). If the mole is cancerous, early removal can be a curative treatment. This means that if the mole is obliterated, the cancer cannot spread.
When should you see a doctor about a mole?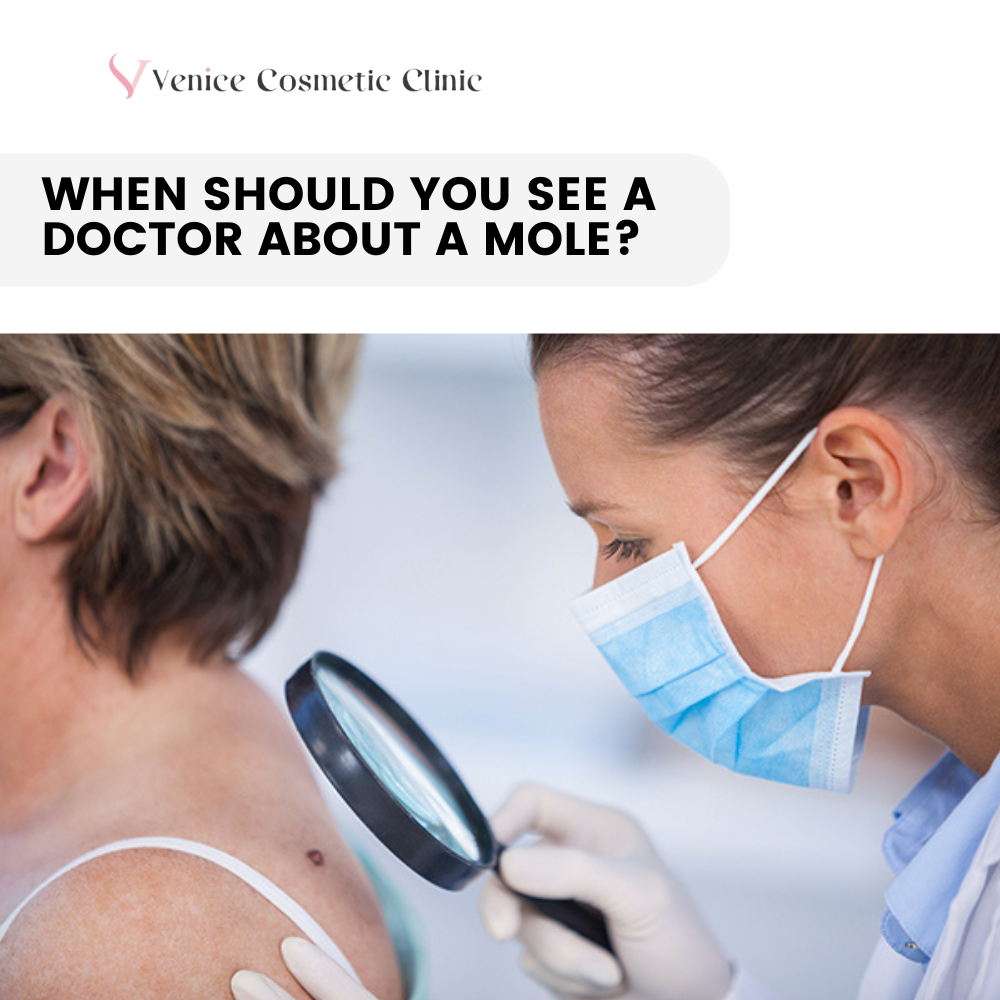 When it comes to moles, seeking medical advice is crucial in certain circumstances. If you notice any changes in a mole's size, shape, or colour, it could be a sign of something more serious. Additionally, if a mole starts to itch, bleed, or develop an irregular border, it's best to consult a healthcare professional. Remember, it's always better to be safe than sorry when it comes to your skin health
2 Types of Mole Removal
In Toronto, various moles can be removed through cosmetic procedures, including Surgical Shave and surgical Excision. Mole Removal Toronto offers personalized solutions for different mole types.
Surgical Shave
A surgical shave is a quick and easy procedure for removing raised moles. The dermatologist numbs the area with a local anesthetic and then shaves off the top of the mole. This leaves a slight pink mark that fades over time.
Surgical shave is often used to biopsy concerning but not necessarily cancerous moles. This allows the dermatologist to remove a small piece of the mole and send it to a lab for testing. If the mole is cancerous, the dermatologist can then remove the entire mole.
Surgical Excision
Surgical excision is a more invasive mole removal procedure than shaving. It is typically used for moles with cells that have grown beneath the top layer of skin, such as black moles on the face.
During surgical excision, a local anesthetic is used to numb the area. The mole is then cut out with a scalpel and a small amount of skin surrounds the area. This may require stitches, leaving a small scar that fades over time.
Surgical excision is considered the best mole removal method for black moles on the face. The best method for you will depend on the size and location of the mole and your individual preferences. 
Schedule A FREE Consultation With Us
What are the advantages of surgical mole removal?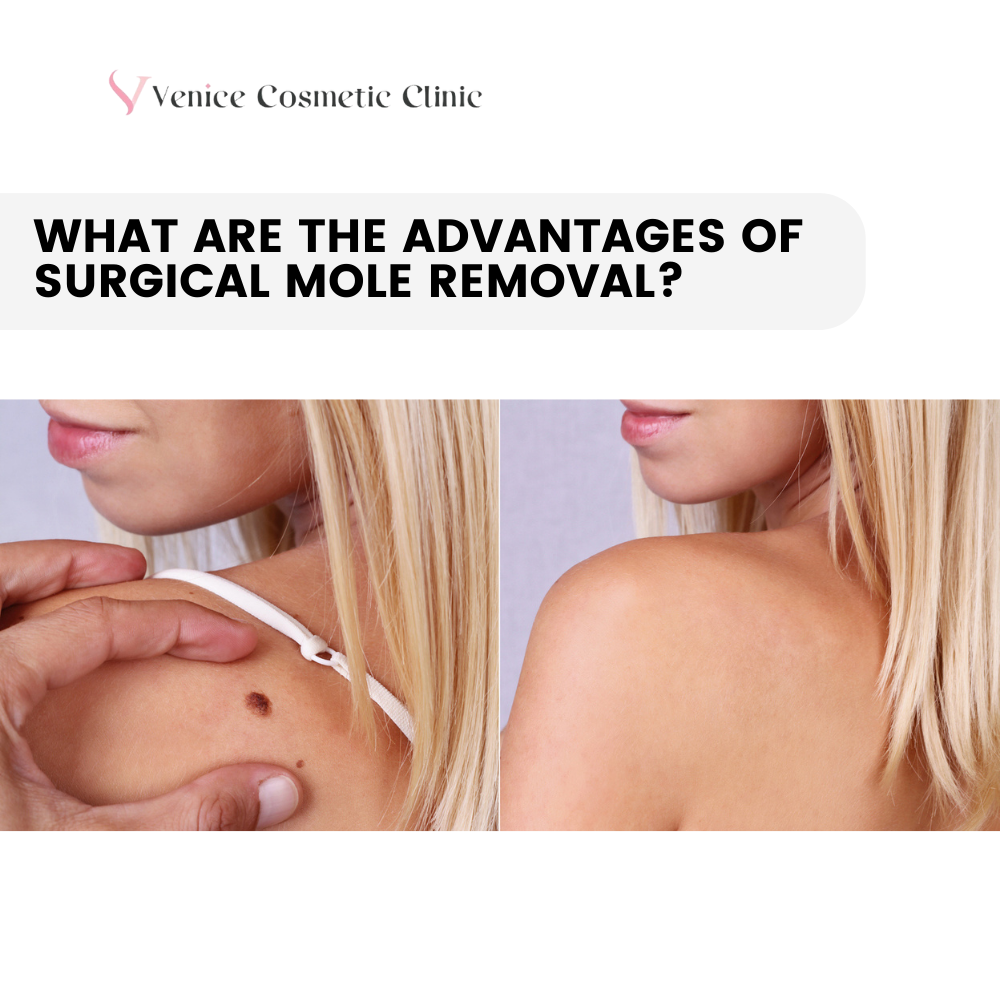 There are several advantages of surgical mole removal. Firstly, it is a safe and effective method for eliminating moles. Secondly, it provides immediate results, with the mole removed during the procedure. Moreover, surgical removal allows the mole to be sent for lab analysis, which is essential for identifying potential malignancies. Additionally, this method is suitable for moles of all sizes and depths. Lastly, the healing process is generally quick, leaving minimal scarring. Overall, surgical mole removal offers a reliable and efficient solution for removing unwanted moles.
Related: 7 Amazing Benefits Of Mole Removal In Toronto
What happens before this procedure?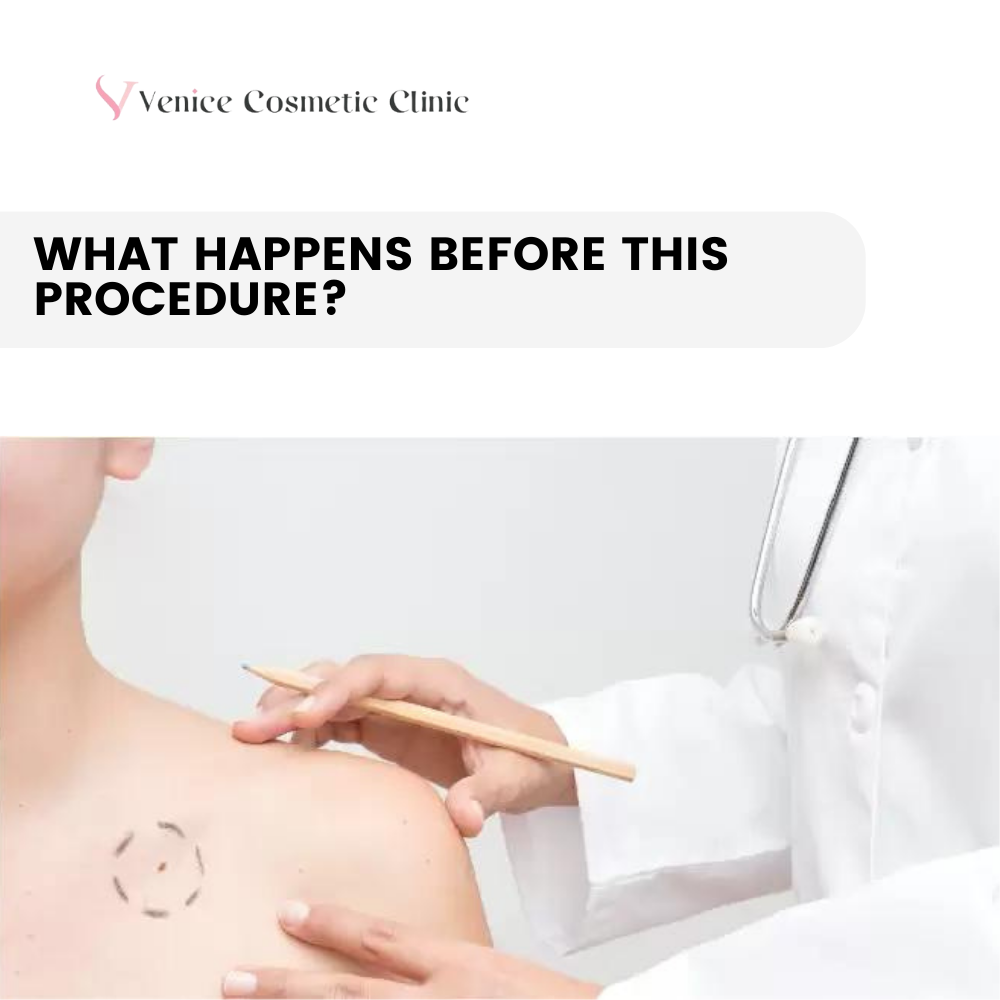 In preparation for mole removal in Toronto, your healthcare provider examines your skin, capturing mole images for future reference. Utilizing a dermoscopy, they assess moles closely to plan the optimal removal method. After marking the treatment spots, the area is sanitized. Numbing anesthesia, applied topically or via injection, ensures a comfortable procedure – occasionally, both methods are employed for utmost efficacy.
What happens after this procedure?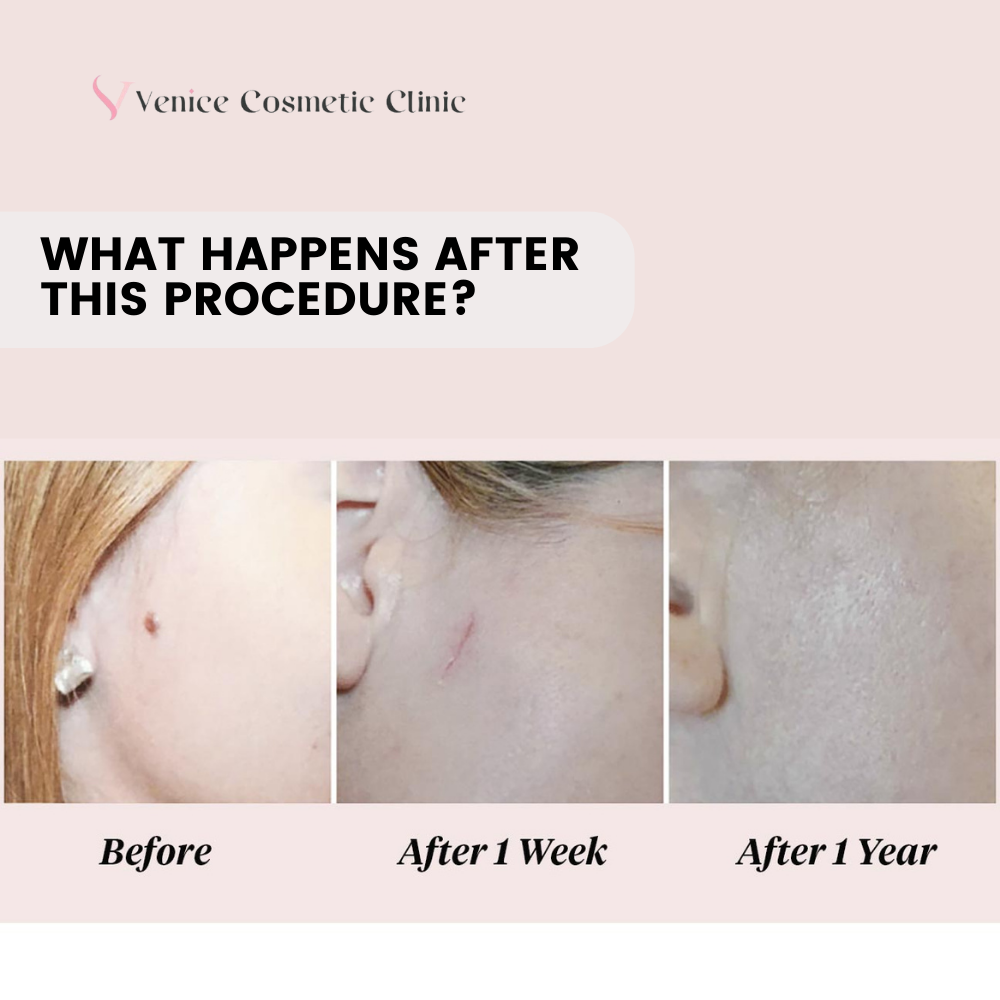 After a mole removal procedure, the area will be numb for a few hours. You may experience some bleeding or bruising, and the area may be swollen and red. You may need to apply a bandage or petroleum jelly to the area, and you will need to keep it clean and dry. 
The healing time will vary depending on the size and location of the mole, as well as the type of procedure used
What are the risks or complications of this procedure?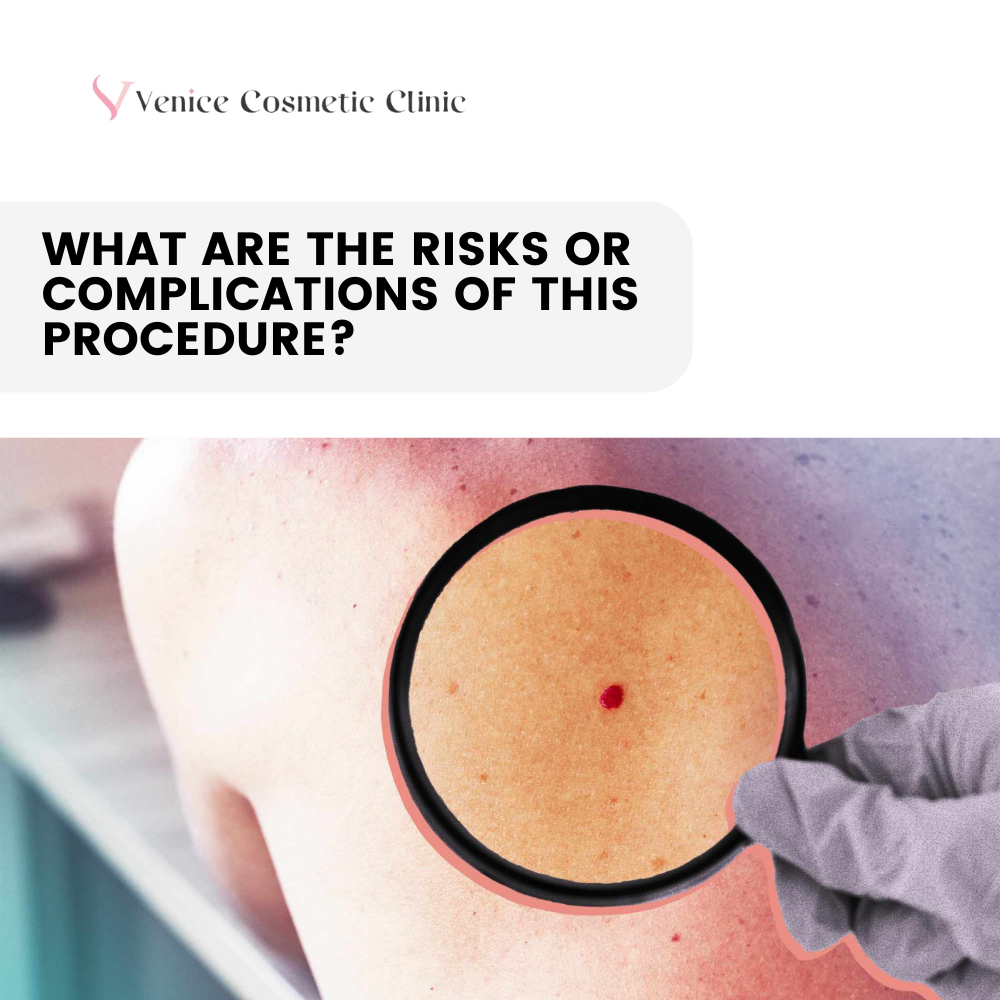 Mole removal is a low-risk procedure typically done in a dermatologist's office. However, there are some risks associated with it, including:
Bleeding

Infection

Scarring

Nerve damage
If you are considering mole removal, talk to your dermatologist about the risks and benefits of the procedure. 
Why Venice Cosmetic Best For Mole Removal Treatment in Toronto
Venice Cosmetic Clinic is the best for mole removal treatment in Toronto, Brampton, and Richmond Hill because we offer a variety of mole removal procedures, including surgical shaving, excision, cryosurgery, and laser mole removal. We also provide cosmetic mole removal, a type of mole removal specifically designed to improve the appearance of the skin.
We have a team of experienced dermatologists who are experts in mole removal. We use the latest technology and techniques to ensure your mole removal procedure is safe and effective. 
Venice Cosmetic Clinic offers mole removal treatments, including:
Contact Us today if you want the best mole removal treatment in Toronto. We can help you get the clear, smooth skin you desire.
Schedule A FREE Consultation With Us
Mole Removal Toronto FAQs:
How do you completely remove a mole?
A dermatologist or other qualified medical professional can altogether remove a mole. A few different methods can be used, depending on the size and location of the mole.
One standard method is surgical excision, which involves cutting out the mole and a small amount of surrounding tissue. Another method is shave excision, which involves shaving off the top layer of skin that contains the mole. Cryotherapy is a third method that uses liquid nitrogen to freeze and destroy the mole.
What not to do before mole removal?
Before mole removal, avoid aspirin and blood-thinning medications. Don't apply creams, oils, or makeup to the area. Refrain from sun exposure, and don't attempt to shave or remove the mole yourself
Can I remove a mole myself?
It is not recommended to remove a mole yourself. Mole removal should only be done by a qualified medical professional, such as a dermatologist. This is because moles can be tricky to remove without causing damage to the surrounding tissue, and they can also be a sign of skin cancer. If you have a mole that you want to remove, it is essential to see a dermatologist to discuss your options. 
What is the safest mole removal method?
The safest mole removal method is the most appropriate for the individual case. There is no one-size-fits-all answer, as the best method will depend on the size, location, and type of mole.
Some of the safest mole removal methods include:
Surgical excision

Shave excision

Cryotherapy
It is essential to talk to a dermatologist to discuss the best method for removing your mole.
Do mole removals leave scars?
Whether mole removal leaves scars depends on the method used to remove the mole and the individual's healing response. Some forms of mole removal, such as surgical excision, can leave a scar. Other procedures, such as shave excision or cryotherapy, are less likely to leave a scar.
How mole is removed naturally?
It is not recommended to remove a mole naturally. Moles are skin growths that can be benign (non-cancerous) or malignant (cancerous). If a mole is cancerous, dismissing it immediately is essential. Trying to remove a mole naturally can lead to infection, scarring, and further complications.
What does a mole look like after removal?
The appearance of a mole after removal will vary depending on the method used to remove it. Some procedures, such as surgical excision, leave a small scar. Other methods, such as shave excision or cryotherapy, may leave no or tiny scar.
The area where the mole was removed will be red and swollen for a few days. The redness and swelling will gradually go away over time. 
Conclusion
In conclusion, "The Complete Guide to Mole Removal" provides comprehensive information on the various options available for cosmetic mole removal. While some may opt for mole removal creams, seeking professional consultation for the safest and most effective approach is highly recommended. Plastic surgeons offer common cosmetic procedures to achieve the best results while minimizing scarring. It is important to do thorough research and consult with trusted professionals to find the best practitioners in the field.